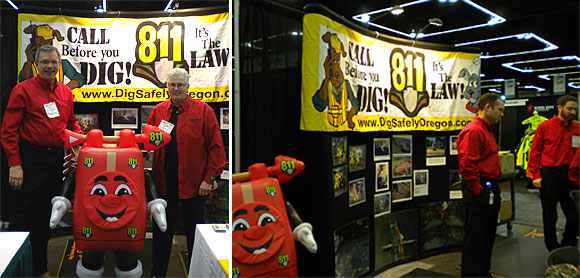 There were over 1,500 attendees each day at the Oregon Governor's Occupational Safety & Health Conference held March 7-10, 2011 at the Oregon Convention Center. OUNC's booth looked great with the addition of our new mascot, Bud, Jr.
For the first time ever at the GOSH Conference, skilled forklift operators competed for cash prizes at the new Columbia Forklift Challenge. The Columbia Forklift Challenge tested the drivers ability to operate a forklift safely during an obstacle course event which was held on Tuesday, March 8. The cash prizes ranged from $200 to $500 and were given to individuals as well as teams. The morning of the event, the drivers received an orientation which was located near the OUNC booth. A group from Boise Packaging of Salem, stopped by to pick up some dig safely materials on their way to orientation. Ruben Medina also picked up one of our popular camouflage hats which he wore during the challenge. It proved to be a good omen for him, not only did he win $500 for taking 1st place in the competition for the individual segment, his team also won the team prize of $450!

On Wednesday March 9, Gary Hyatt, Damage Prevention Program Supervisor for Northwest Natural Gas and also one of the authors of the Oregon Dig Law along with Bryan Baxter, Compliance Specialist/Damage Prevention Investigator for Northwest Natural Gas presented "Oregon Excavating Law: Protecting Our Workers and the Underground Infrastructure" to 32 students.
https://digsafelyoregon.com/wp-content/uploads/2015/01/gosh-2011-booth.jpg
278
580
OUNC
https://digsafelyoregon.com/wp-content/uploads/2015/01/Oregon-811-Logo-NEW.png
OUNC
2011-04-04 16:37:33
2015-03-12 13:55:38
GOSH CONFERENCE – 2011