Think about what you do when you're sitting in bumper-to-bumper traffic waiting for the light to change. Chances are you spend at least a little of that time checking out the stickers plastered on the vehicle in front of you.
In fact, Jarrod Morrison of Contract Construction & Program Management for PGE is counting on that.
As Morrison explains, with the help of Fleet Services, his goal is to get an "811 — Call before you dig" sticker placed on the bumpers of all PGE vehicles, everything from line trucks to company vans. His plan — conceived as a Customer Focus Initiative quick hit — calls for stickers to be placed on each vehicle as it makes its way through Fleet Services for maintenance.
"We're always looking for new and different ways to get the 'call before you dig' message out to people," Morrison says. "Nationwide, about half of the damage done to underground utilities occurs because people do not call and ask for a locate." A locate is when a professional utility locator visits a site in advance of any digging and marks the approximate location of an underground utility line. In 2007, PGE received 339 reports of so-called dig-ins, which occur when someone hits one of our underground lines.
"We want to get the word out about this free service," Morrison says. "The stickers are basically a low-cost thing, but it could have a high impact because PGE has more than 1,000 vehicles. I know when I'm stopped at a stoplight; I can't help but read the stickers on the bumper in front of me."
More on 811
In 2006 the Federal Communication Commission set aside the three digit number 811 for calling before you dig and it became the nationwide number to call for locates on May 1, 2007. The Oregon Utility Notification Center, (OUNC) the state agency responsible for the Oregon excavation law and the administration of the One Call Center is committed to preventing damage to underground utilities. So, It has joined forces with the Common Ground Alliance, (CGA) a national damage prevention organization and its 1,400 members to participate in its national "Call before you dig" campaign to increase public awareness about the importance of having utility lines marked before digging.
http://digsafelyoregon.com/wp-content/uploads/2015/01/Oregon-811-Logo-NEW.png
0
0
OUNC
http://digsafelyoregon.com/wp-content/uploads/2015/01/Oregon-811-Logo-NEW.png
OUNC
2008-03-14 19:28:21
2015-03-12 14:01:46
Getting out the 811 message: 'Quick hit' counts on curiosity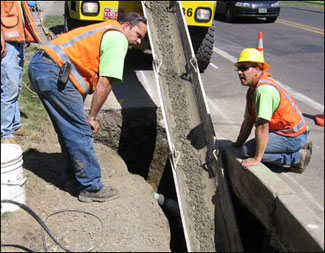 During the recent Verizon FTTP project in the City of Newberg, Verizon worked to place almost 300,000 ft of new underground conduit in the public right of way. At times during the project, there could be as many as 15 underground directional drilling crews working at one time. To minimize impact on the city water, sewer and storm systems, and the citizens, Ron Layne, one of the public works staff members was assigned full time to work with Verizon and the contractors. Ron was the point of contact between Verizon field crews and the city, worked closely with the locators, and often worked long daily hours to personally locate sewer laterals that had been installed before records were kept to help minimize utility damages and service interruptions. Due to Ron's actions, the project was completed on schedule, with fewer that anticipated damages to the City of Newberg sewer system and other utilities. Ron also coordinated all repairs with the contractors and city staff, insuring that all parties worked together to resolve damages and insure repairs were done correctly, and quickly. This cooperation between the City of Newberg and Verizon reduced the overall costs to both the city and Verizon, and helped keep the project on schedule.
In the Picture, Ron is seen checking on an excavation repair of a damaged sewer lateral.
http://digsafelyoregon.com/wp-content/uploads/2015/01/Oregon-811-Logo-NEW.png
0
0
OUNC
http://digsafelyoregon.com/wp-content/uploads/2015/01/Oregon-811-Logo-NEW.png
OUNC
2008-02-18 19:32:50
2015-03-15 12:05:47
City of Newberg goes that extra mile to reduce damages to it's sewer system
On Saturday, November 10, 2007, employees of Cascade Natural Gas Corp in Ontario, Oregon decided they wanted to honor the Veterans of this country by participating in annual Veteran's Day Parade in Ontario. They decorated one of their trucks and purchased 75 pounds of candy to hand out to local youngsters who braved the 40 degree damp day to line the parade route and watch the 70 plus participants, including other utilities such as Idaho Power Company and Malheur Bell.
The gas company thought along with honoring the Veterans, they could use the opportunity to spread the word about calling before digging by adding a couple signs on the truck to remind folks to call the One Call Center before digging.
A good time was had by all and we want to remind everyone to support our troops home and abroad, and to thank a Vet!
http://digsafelyoregon.com/wp-content/uploads/2015/01/Oregon-811-Logo-NEW.png
0
0
OUNC
http://digsafelyoregon.com/wp-content/uploads/2015/01/Oregon-811-Logo-NEW.png
OUNC
2007-11-24 19:35:47
2015-04-05 10:48:59
Spreading the Word and Honoring the Vets!